Preparing to
Entertain
this Summer
Lifestyle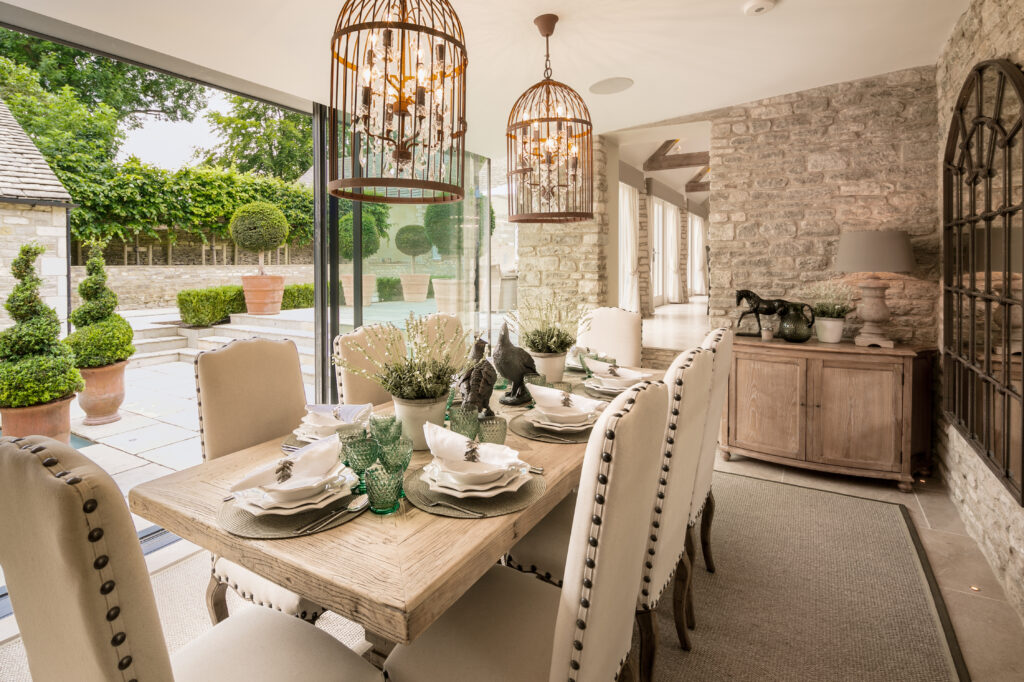 Over the past two years, your home and your needs within it altered hugely. Whereas once a place solely for relaxation, spending quality time with loved ones, and shutting the door on your long working day, it became a space that had to work that much harder to ensure that all areas of your life could be catered for in one place. We all lost the opportunity to entertain family and friends, and as we look forward to longer days and warmer nights, we are excited more than ever to host guests at home this summer.
We know that the weather in the UK can be unpredictable, so it's best to be prepared for all eventualities. Outdoor dining rooms adorned with a few light interior comforts, or areas within gardens which offer alfresco entertaining away from the elements can make the experience even more enjoyable. We asked Alexander James Interiors – a luxury interior designer, to share some helpful tips to create the perfect entertainment space to enjoy this summer.
It is essential to consider how your interiors can reflect all of your families' individual needs and your work and home life balance. If you often cater for families with children, then look to have a secondary space for the children to dine. Or if the layout doesn't allow for such, ensure that table placement are wipeable, cutlery and glassware, and any upholstery within your dining space are long-wearing and less delicate.
If it's glamour and excitement that you are looking for, explore elaborate and eye catching centre pieces. Our designers use an amalgamation of candles for ambiance and large floral displays for decadence. Why not add some interest with your cutlery and tableware? Classic doesn't need to be boring – this is also a subtle way to pull your interior scheme together and if brought wisely, is a nice way to reinvent a space for each event without breaking the bank. If you are looking for a few new pieces to reinvent your dining space, the Alexander James Interiors website may provide some inspiration – www.shopthelookbyaji.co.uk
Summer Ambience
When planning the perfect gathering, many may overlook the fundamental necessity of technology. We are all obsessed with streaming our every move, and the instant gratification of sharing across social platforms. Ensuring that your wifi is adequately fit for purpose in your outdoor spaces can be easily forgotten. And if you are creating ambience with music throughout your events, you may wish to consider enlisting the assistance of specialists to help update your outdoor audio system.  Whilst traditional outdoor audio uses fewer but bigger speakers, it's advised to use smaller speakers to distribute the sound where you need it, but spread at a lower, more consistent volume. This will provide a clearer and more comfortable sound for your guests to enjoy.
If you wish to discuss your smart technology needs within your home and garden, we would be delighted to put you in contact with the relevant specialists – please contact us for more information.