Fall in
love
with seabass ceviche
Lifestyle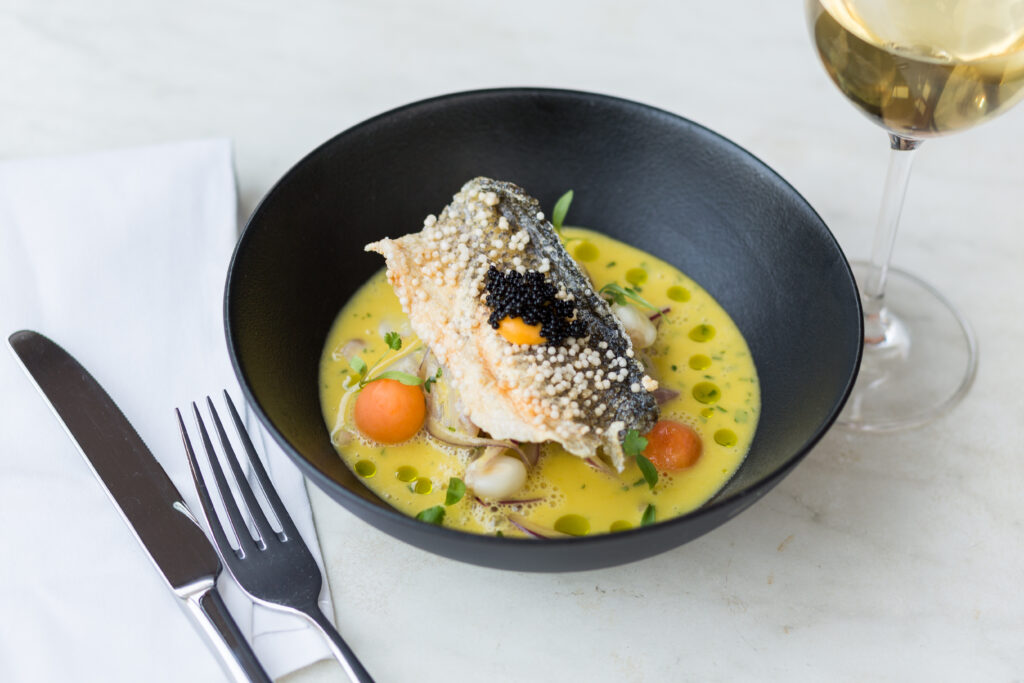 With Valentine's Day imminent, we asked Jorge Baumhauer da Silva for a personal recommendation for a simple, yet stunning meal that is easy to create at home. Some steps within this recipe for Seabass Ceviche can be made ahead of time, and is surprisingly easy to prepare.
Seabass Ceviche
Ingredients
---
Seabass (1 fillet) – cut in 1.5cm cubes | ½ red onion – sliced in very thin slices | 6 grains giant corn, or sweetcorn – cooked in the same cooking liquid as the sweet potatoes (see recipe below) | 50g coriander leaves chopped finely | 100ml of classic tiger' milk | coriander cress to garnish | 150g of sweet potato cut in 1cm cubes 100ml of water | 100ml of orange juice | ½ stick of cinnamon | 1 x star anise | Aji Amarillo Tiger's milk (serves 2) | 5cm of fresh ginger | ½ stalk of celery | juice of 8 limes | 1 clove of garlic | 6 steams of coriander | 2 tsp of Amarillo paste * Salt to taste
*If you can't source Amarillo paste, you can improvise by chopping one yellow bell pepper with ½ scots bonnet chilli or any other chilli of your choice along with 1 x medium white onion.
Method
---
~ Chop the onion roughly, in a sauté pan, add some oil, sauté the onion and the chilli and the yellow bell pepper for 5- 6 minutes.
~ Take it off the heat, and using a good food blender, blitz into a paste. The paste can be used not only on Ceviche but also as cooking base for many other dishes which can be kept in the fridge for up 5 days.
~ Cook the sweet potato in the water, orange juice and spices until tender, refrigerate before assembling your ceviche.
~ Cut the sea bass fillet in to 1.5cm cubes, watch for any bones left in the fillet.
~ Peel the garlic, ginger and also the outer layers of the celery stalks.
~ Add all the ingredients into a blender, blitz it for five minutes, add the salt to taste and leave the ingredients to infuse for an hour in the fridge.
~ When you are ready to assemble your ceviche and ready to use your tiger's milk, you have a choice of straining the liquid through a fine sieve to get rid of the bits or leave it, I personally think is adds some texture to dish.
The tiger's milk can be kept in the fridge for up to 2 days. It is best served very chilled.
~ In a metal bowl, add the seabass fillet cubes, add some table salt to season, add the onion slices and chopped coriander, the sweet potato cubes, corn kernels, steer all together to combine all ingredients.
~ Add the tiger's milk and assemble your ceviche straight away.
~ Garnish with some coriander cress, and enjoy!
To enquire about Jorge Baumhauer da Silva's availability, please contact us.
Image credit – Haus of Silva