Understanding your
Domestic
Staff
Private Household Staff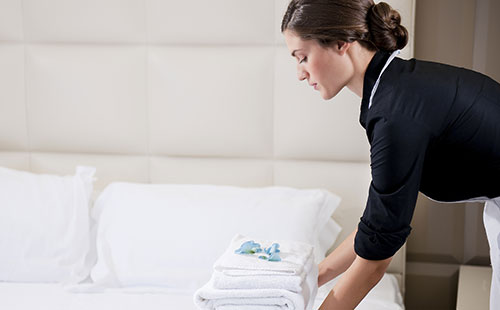 Domestic staff play an important role in maintaining the smooth running of private households. We work with each client to truly understand their needs and requirements which enables us to place the perfect employees for your home.
What's the difference between domestic staff and housekeepers?
'Domestic staff' is the broad term which encompass all staff that are employed by a residential home. Housekeepers will fall into this category as they are a type of domestic worker.
How many members of domestic staff do I need?
It really is dependent on your lifestyle and the size of your house or estate. We can work with you to guide you on the number of private staff members that you may need. We place all types of domestic workers: Butlers, Chauffeurs, Private Chefs, House Manager, Housekeepers, Domestic Couples and Groundsmen.
Some clients express a need for domestic workers to live in, others prefer for staff to live out. Sometimes it is possible to consolidate several tasks with a 'Domestic Couple'. The duo would be able to cover a full range of roles, both inside and outside the home.
How do I manage domestic employees? 
Our luxury domestic employees are fully trained and will have a wide range of experience working for clients in private homes.  However, each client has different expectations, so ensure that you walk through your home with the staff member on day one and fully explain what you require from them. To create a smooth working relationship, make sure that the brief is fully understood. 
How should I treat domestic staff?
Sometimes domestic workers often become an extension of your family, so we encourage you to treat any employee with the utmost respect.
How do I recruit domestic staff?
At AJA Partnership, we recruit the highest quality of domestic employees. We ensure that references and checks have been made so that you have complete peace of mind, and recruiting is a stress free process. Please contact us today and we will be happy to help you find the perfect candidate for your home.